B+R STUDIO Furniture Market Analysis is specialized company with wide branch contacts and deep experience in Polish market. As the first we began to regularly gather and analyse data on production, sale and export of furniture. We have a database of producers, traders and exporters and importers of furniture.
The founder of B+R Studio is Tomasz Wiktorski Ph. D. since 2003 he is preparing a market analysis for the Polish Chamber of Commerce of Furniture Manufacturers published in the quarterly newsletters. Tomasz Wiktorski have been state flagship program Polskie Meble manager. He also has initiated a number of projects financed from EU funds and market research for OIGPM and other companies. He conducts research and publishes articles on national and international conferences.
The offer of B + R Studio includes consulting on sourcing from Poland, market entry strategies, advisory, analysis, research and trainings. Through extensive contacts team can be upgraded with the most eminent professors and experts from Poland and abroad.
We provide consulting services as:
-market research
-certification process support
-investment consulting
-business linking and local support on relations with trade, production or state agencies
-strategy formulating and executing according to entering the PL or EU market
What characterizes us?
Instant help.
You need to verify the data or information. We are available 12 hours a day.
Deadline close?
Dates chase? If necessary we will work well on the weekend!
Ready-made solutions:
If you need more general knowledge about the mechanisms of the furniture market in Poland? We prepared together with OIGPM ready to buy market reports.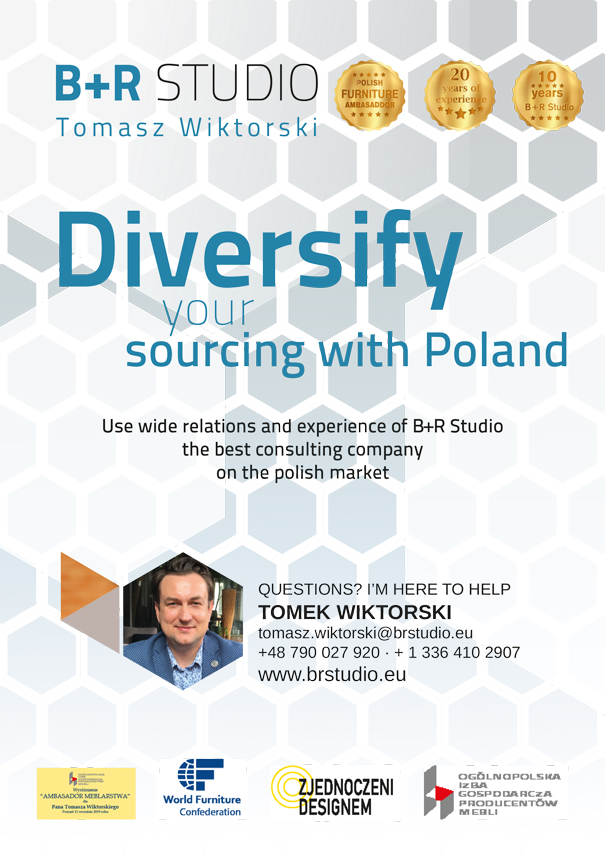 "Polish Furniture Outlook 2023" - Report
This is the flagship report of B+R Studio offering a broad view of the Polish furniture industry. It is a great tool for companies looking for new suppliers to assess the size and potential of the Polish furniture industry.
The report contains data on:
market value forecasts and estimates,

competitiveness of the Polish furniture industry against the background of the world,

financial results and assessments of the economic situation in the production of furniture,

furniture sales in Poland,

situation in international trade: import and export by countries and furniture groups.
In addition to the above-mentioned, the study also includes information on the financial data of the 50 largest furniture companies, the structure of furniture production, the dynamics of price changes and margins.
Contact:
Mateusz Strzelczyk
Phone: 792 731 201
E-mail: Ten adres pocztowy jest chroniony przed spamowaniem. Aby go zobaczyć, konieczne jest włączenie w przeglądarce obsługi JavaScript.